Whether it's a radiant floor system, a ducted system like the Steffes Comfort Plus, or the Steffes room unit, we have an off-peak electric thermal storage (ETS) heating solution for your home. Contact our Energy Management Specialists at (800) 552-7658 for more information on installing an ETS system in your house. Wondering how the Inflation Reduction Act can help? Visit here to learn more.
The graph below showcases the annual operating costs between our offered products, Comfort Plus ETS and ASHP Comfort Plus ETS, against other common household heating options.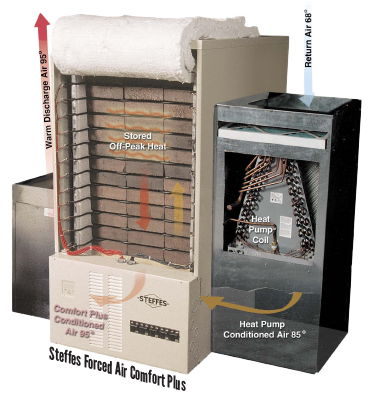 STEFFES COMFORT PLUS & AIR SOURCE HEAT PUMP
Combine the Value of Off-peak Energy with the Efficiency of a Heat Pump
Provides optimal comfort and efficiency
ASHP reduces electricity usage of system nearly 50%
Low annual operating cost
Eligible for 5.5¢ ETS rate
$50 per KW rebate for Comfort Plus on ETS
Up to $630 rebate for ASHP
Comfort Plus eligible for 48-month EASY-PAY
STEFFES ROOM HEATER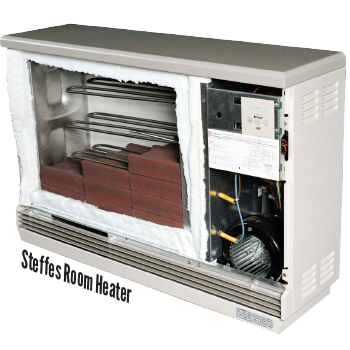 Deliver Stored Heat Into Your Home When You Need It
ETS heater stores off peak energy—no back-up system required
Qualifies for 5.5¢ ETS rate and 6.1¢ dual fuel rate
Expanded charge hours now available for 5.5¢ ETS rate
Up to $50 per KW rebate available
EASY-PAY available—pay for heaters over 48 months on your bill
Comfortable radiant heat with quiet variable speed fan
Great for single room or entire home
Replaces wood stoves, wall furnaces or electric baseboard
LREC will size and price a Steffes system for your needs
Steffes non–residential buildings have a dual fuel rate of 6.8¢
More information about Steffes Room Heaters
Examples of the Steffes Room Heater in actual homes
INTERRUPTIBLE SPACE HEATING
Duel Fuel
Our Dual Fuel Rate Option is available for the combination of a primary electric heating system with a back-up propane or fuel oil system. Dual fuel systems are controlled during periods of high electric demand and at 6.1¢ per kWh offer a great value compared to other fuels.
Short Term Storage
At 6.1¢ per kWh, Short Term Storage is a great option for radiant floor heating. These systems deliver heat using hydronic tubing installed in a 6-inch layer of sand under a concrete slab.
Both Dual Fuel and Short Term Storage may be controlled any time–normally from 4 p.m. to 10 p.m. (up to 400 hours per year).
Are you interested in one of our ETS heating rate options? If so, please fill out the Load Management Application to the best of your ability. If you need assistance with the application, please call our energy management team at (800) 552-7658. Thank you!